Model 22VMU Flow Measurement and Flow Control System
The 22VMU is a self-contained, electronic flow measuring and flow control system. Based upon the variables of valve differential pressure and valve position, the ValveMeter Ultra automatically calculates, displays and controls the flow to the control set point. With the ValveMeter Ultra, there is no need for a separate flow meter in the line. Typical examples include water transmission lines, water treatment plants and pump stations.
MODEL FEATURES:
Overall accuracy of +/- 2%
Complete package, no additional hardware required
Sizes 4″-24″
Wider range of flow control than standard hydraulic systems
User-friendly color touch screen operation
Full function PID controller
User-selectable flow units (USGPM, m3/hr, L/S, MGD)
Allows for frequent set point change
Local (touch screen) or remote (4-20 mA or digital) set point selection
Valve scheduling for control parameter modification (Time, Day of Week, Process variables)
4-20 mA output of metered flow rate
Includes totalizer (sums the total number of gallons that have flown through the valve since the totalizer reset. Measured in USGPM, m3/hr, L/S or MGD)
RS232/RS485 communications (CANBUS, MODBUS)
100-260Vac 50-60Hz with 24/12 VDC, or solar Powered units available
Optional:
– Intranet monitoring control and e-mailing
– Configuration for low pressure operation
– Ethernet and logging option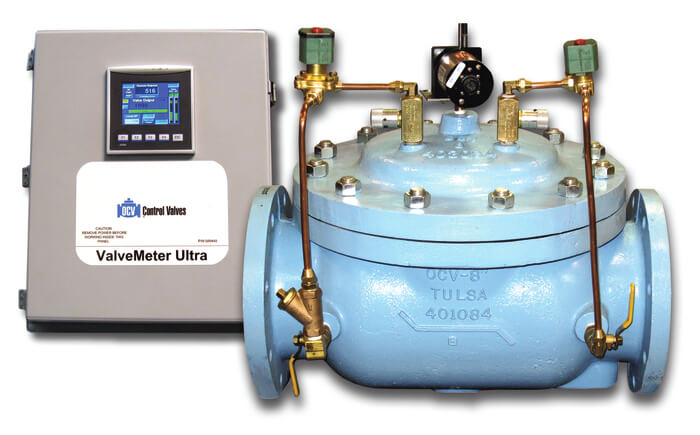 "We appreciate the prompt responses and the outstanding customer service that the OCV team consistently provides!"
Harry Kitzmann
WSN Construction
"Our customer was in a shutdown and needed a 2.5" valve immediately.  OCV stepped up and was able to build the 2.5" valve in one day and ship it next day air to the customer.  Fantastic work!!"
Suzie Sommer
Conbraco Industries
"We pride ourselves on creating innovative solutions and providing quality products to our clients in the fastest possible time frame. Sometimes that means seeking out and switching to a better manufacturer. Patty Space's knowledge and response time won me over! And, OCV delivered in less than 5 weeks – something the competition could not do!"
Paul Samlalsingh
Online Valves, Inc.
"OCV and Jim Gibson are the #1 supplier of control valves in our circle of vendors. Their integrity is never compromised as they strive for Complete Customer Satisfaction. Their word is their bond and they live by it. Their intimate knowledge of their products and our industry is unsurpassed and we look forward to many years of a mutually successful relationship as we continue to grow together and discover new markets."
Bruce Callahan
Grey Wolf Services, LLC
"Since 1996 Dakota Pump & Control has partnered with OCV. DPC takes who we represent on our line card very seriously, and we couldn't be happier with this partnership. OCV has a catalog that covers all our needs, as well as the support a service based company like ours demands. We look forward to whatever valve challenges are presented to us, because we have the right manufacturer that can support us every step of the way."
Darin Waldner
Dakota Pump & Control
"The Otoe-Missouria Tribe of Oklahoma has been doing business with OCV since 1993. We have utilized them for all types of valves, as well as parts. OCV always has the answers. Working with Robert and Jarrod has been a pleasure!"
Jonathan Haley
Otoe-Missouria Tribe of Oklahoma
"A lot of companies preach customer service, but their actions don't reflect it. That's not the case when it comes to OCV. I have met many associates at OCV, from Plant to Sales to Engineering – all are focused on taking care of their customers. OCV is expedient in quoting projects and has even been known to troubleshoot valves from other manufacturers and construct valves in an emergency to get a city out of a jam. OCV practices what they preach!"
Richard Jones
Specified Utility Associates
"D&W has maintained a relationship with OCV as a Rep for 30+ years. Although this industry, and even products, have gone through major transformations over that time, OCV's dedication to customer service has remained steadfast. From a friendly voice when you call their office, to the expert advice you receive when troubleshooting a problem – OCV sets the standard and no one else comes close."
Andy Brown
D&W Systems
"We represent several prominent manufacturers, but OCV distinguishes themselves with their customer focused approach. It seems as if every valve they fabricate is going to their neighbor. Their quality and workmanship is second-to-none and when you call for support, you feel like family."
Tim Rice
Municipal Treatment Equipment
"I love representing OCV and working with their knowledgeable staff! Whether I need help with pricing, or addressing engineer comments, or following up on shipments – OCV always responds promptly and efficiently. Their level of customer service is top notch! I've had the pleasure of working with OCV for over 12 years now, and I've never had a warranty request from any of our customers – which says a lot about the high quality of their products."
Sandra Reser
Mellen & Associates, Inc.
"As an inside salesman for a pump company located in Southern Illinois, I am always looking for various pumping related parts and materials. Jim Gibson and the fine folks at OCV Fluid Solutions were ready to meet my needs. The service is great and the price is even better!"
Ron Krammler
C and C Pumps & Supply
"OCV was instrumental in providing on-site technical and engineering support for the start-up of the valves."
Richard Marsh
Trade Mechanical Contractors
"OCV Control Valves delivered the products on time, made them perform as proposed and helped answer our questions. There was good teamwork all around."
Mike Walker
Trade Mechanical Contractors
"Personally having 18 years of verifiable field experience, OCV is very easy to work with. They have knowledgeable tech support, their sales team is exceptional, and there have been no hiccups with lead times. Everyone I talk to at OCV knows the valves and know the equipment they are selling."
Steven Olenicki
3rd Coast Pump & Equipment
"OCV was very helpful. Not only did they always answer our questions and make sure the valves were exactly what we needed. but they were also able to provide us with two new pre-set valves in about three to four weeks."
Ty Murray
Grand Coulee Dam