Series 118/108SA Surge Anticipation
The OCV Series118/108SA surge anticipation valves are designed to be installed in a bypass line and provide protection against damaging surges that can occur in pumping systems when a pump is suddenly stopped. Unlike conventional relief valves, which open only when a high pressure wave hits, surge anticipation valves sense the precursor of the high pressure wave (pump power failure or low pressure wave) and opens in anticipation of the returning high pressure wave that follows. By opening, the valve prevents the buildup of pressure before it occurs.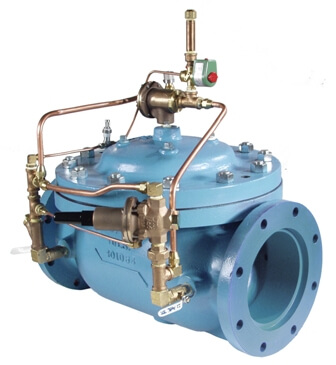 | | | | | | |
| --- | --- | --- | --- | --- | --- |
| Model 118-4 Surge Anticipation-Electronic Valve | | | | | |
| Model 118-5 Surge Anticipation Valve-Electronic Type | | | | | |
| Model 108SA-3 Surge Anticipation- Hydraulic Type | | | | | |
| Surge Commander | | | | | |
Operates automatically off line pressure.
Heavy-duty, nylon-reinforced diaphragm.
Rectangular-shaped, soft seat seal provides drip-tight Class VI closure.
Diaphragm assembly Guided top and bottom.
Throttling seat retainer for flow and pressure stability.
Easily maintained without removal from the line.
Replaceable seat ring.
Alignment pins assure proper reassembly after maintenance.
Valves are factory tested.
Valves are serial numbered and registered to facilitate replacement parts and factory support.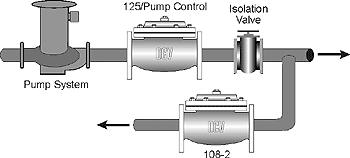 Installed in the bypass line the valve discharges to atmosphere. Valve opens on power failure, low pressure signal or as a high pressure relief valve.
ELECTRO HYDRAULIC MODEL 118-3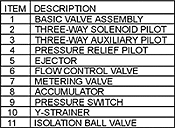 The control of the model 118-3 is via a three-way solenoid. This solenoid may be electrically interlocked to either the pump power or pump starter. If wired to the pump starter, the valve will automatically proceed in the opening cycle on each pump shutdown. Wired across pump power it opens only on pump power failure.
Valve opens when solenoid is deenergized – either directly on power failure or through pressure switch on low pressure – remains open for a predetermined time (accumulator fill), then slowly closes.
Valve also opens when set point of relief pilot is exceeded, then slowly closes when pressure returns to normal.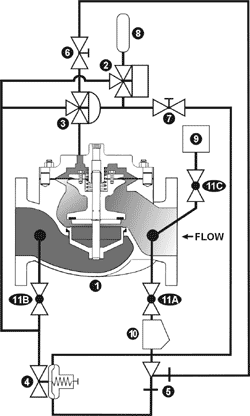 ELECTRO HYDRAULIC MODEL 118-4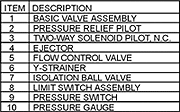 The model 118-4, provides the basic functions of the Model 118-3. The electronic Surge Commander, is a self-powered module, designed with two selectable modes of operation allowing for finer tuning of the variables of when to open and how long to stay open.
Mode A – Opens valve when there is a power failure during pump run accompanied by a down surge in pressure.
Mode B – Opens valve when there is a power failure or when there is a down surge in pressure.
Both modes prevent unnecessary valve opening caused by power interruptions with no pump running. The time the valve remains open a precise time and is easily adjustable via a digital timer.
The valve also opens when set point of the high pressure relief pilot is exceeded, then slowly closes when pressure returns to normal.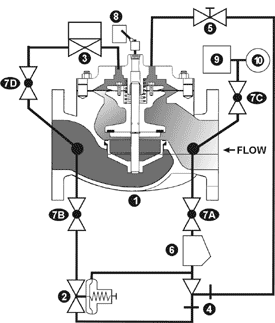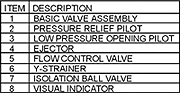 The control of the model 108SA-3 is via two hydraulic control pilots. A normally open, low pressure pilot that opens the valve when system pressure drops to its set point. This setting is typically 25 psi less than static pressure. The valve also opens when set point of the high pressure relief pilot is exceeded. The valve slowly closes when system pressure returns to normal (pressure is between the settings of the two pilots).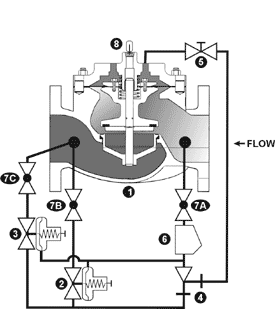 SIZING OF SERIES 118/108SA Surge Anticipation
SIZING CONSIDERATIONS
For the most comprehensive procedure in sizing Series 118/108SA control valves, it is best to use our ValveMaster software or the guidelines shown here in conjunction with the Performance Charts in the Engineering Section of the OCV catalog.

The flow required through a surge anticipation valve can be difficult to determine, so a general guideline is to use 60% of the rated pump flow. The 118/108SA Series valve is capable of intermittent flows up to 45 ft. per second. Surge Anticipation Valve sizes are typically 50-60% of the mainline size.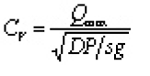 where:
Qmax = maximum flow rate, gallons per minute
DP = pressure drop, psi*
sg = liquid specific gravity (water = 1.00)
* For valves which exhaust to atmosphere, the DP will be numerically equal to the low pressure setting.
From the chart below, pick the smallest valve that has at least the Cv determined above, and where the velocity does not exceed 45 ft/sec.
Flow chart for full port valve.

Many surge anticipation valves are, by their application, subject to pressure differentials that may induce cavitation. When these conditions exist, it may be only on an intermittent basis, causing minimum concern for valve deterioration.
This complex phenomenon cannot be predicted by charts, which index only inlet and outlet pressures. The easiest way to predict cavitation is to let us do the calculation. Simply contact us and we will provide a graphical analysis and a solution.
Provide us:
APPLICATION (i.e., surge anticipation)
VALVE SIZE
PRESSURE – INLET and OUTLET
FLOW RANGE – Minimum and Maximum
FLUID TYPE
FLUID VAPOR PRESSURE (if other than water)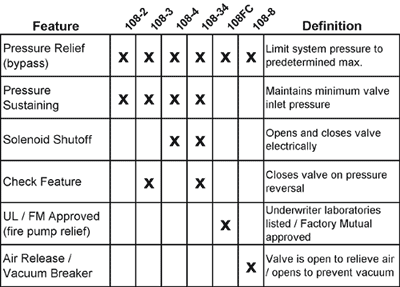 SURGECOMMANDER–Used with Model 118-4
Enclosure: NEMA 4X (weather tight & corrosion resistant)
Dimensions: 17 1/2" High x 14" Wide x 8 3/4" Deep
Input Power: 120VAC
Output Power: 12VDC from internal battery/charger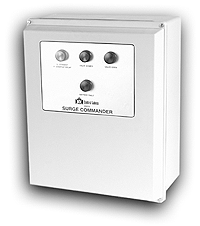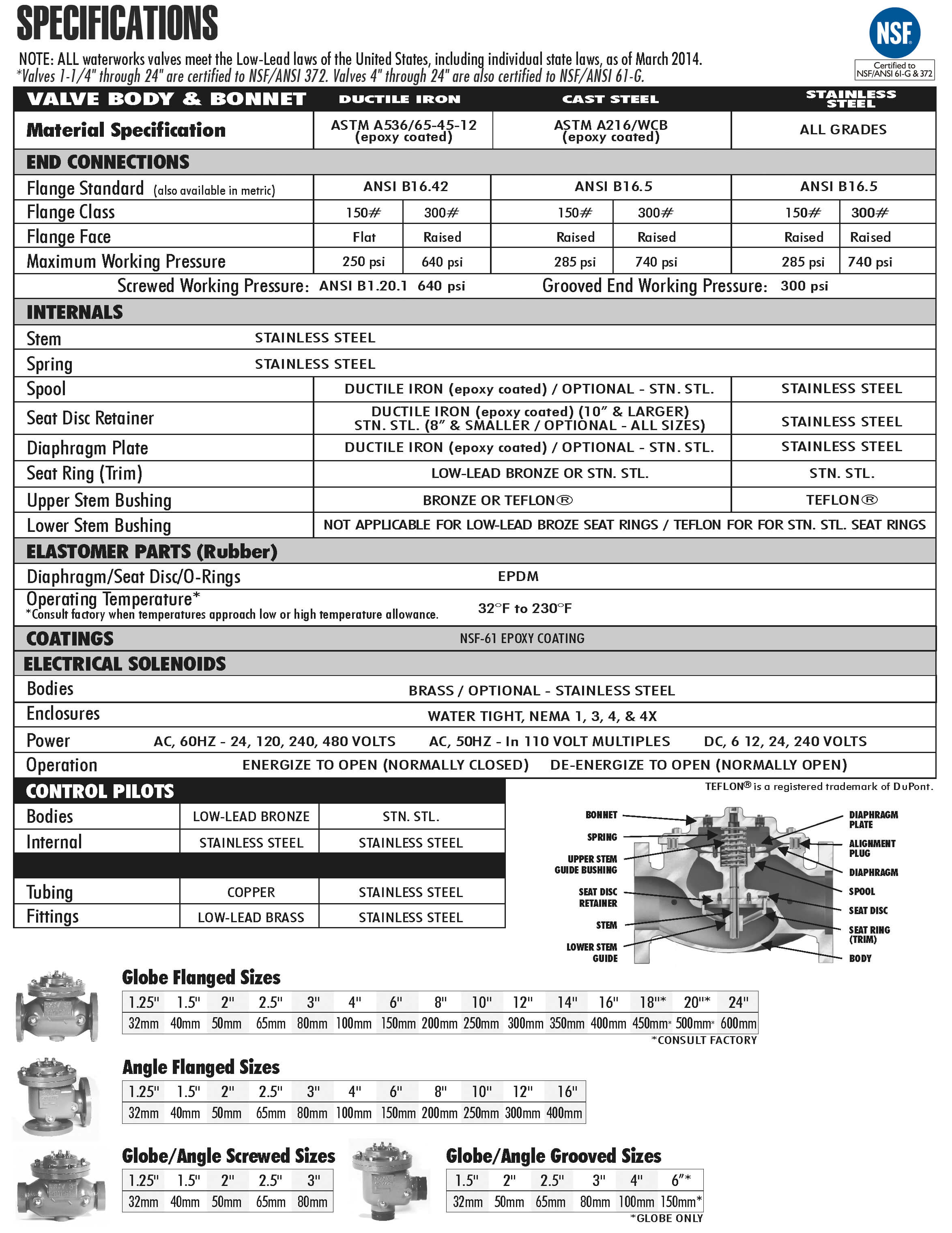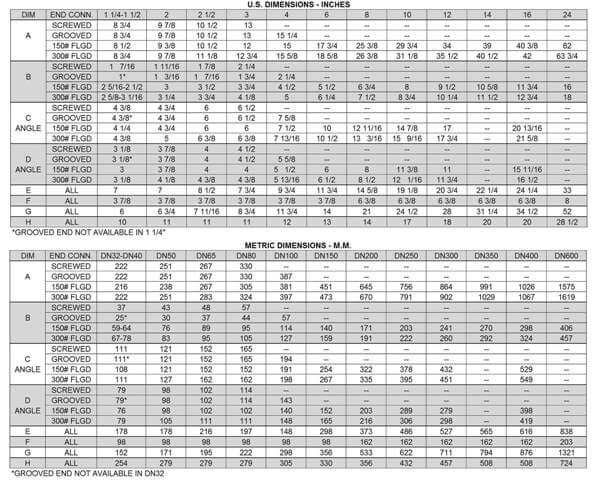 For maximum efficiency, the OCV control valve should be mounted in a piping system so that the valve bonnet (cover) is in the top position. Other positions are acceptable but may not allow the valve to function to its fullest and safest potential. In particular, please consult the factory before installing 8″ and larger valves, or any valves with a limit switch, in positions other than described. Space should be taken into consideration when mounting valves and their pilot systems.
A routine inspection & maintenance program should be established and conducted yearly by a qualified technician. Consult our factory @ 1-888-628-8258 for parts and service.

When Ordering please provide:
Series Number – Valve size – Globe or Angle – Pressure Class – Screwed, Flanged, Grooved – Trim Material – Adjustment Range – Pilot Options – Special needs / or installation requirements.