ValveMeter Lite Flow Measurement System
The ValveMeter Lite (VML) is an electronic flow measurement system that can be added to any OCV control valve, ranging from 4" to 24". By adding this system, the electronic unit will give the ability to measure flow through the adapted valve.
As a result, the user may access this information any of the following ways:
1.) Digital display on the front of the ValveMeter Lite electronics unit
2.) The unit will translate the flow to a 4-20mA analog output that is scaled to the maximum flow of the valve selected (20 feet/sec rate)
3.) Digital output (RS232) for the flow rate, totalizer count, measurement scale, and other information
Typical examples include water transmission lines, water treatment plants and pump stations.
Note: For clarification of electronic terminology refer to the OCV Electronic Glossary **Valves 1-1/4″ through 24″ are certified to NSF/ANSI 372. Valves 4″ through 24″ are also certified to NSF/ANSI 61-G.
Model Features
Overall accuracy of +/- 2%
Sizes 4″-24″
User-friendly screen operation
User-selectable flow units (USGPM, m3/hr, L/S, MGD) by internal DIP switch
4-20 mA output of metered flow rate
Includes totalizer (sums) the total number of gallons that have flowed through the  valve since the totalizer reset. Measured in USGPM, m3/hr, L/S or MGD)
RS232 communications
100-260Vac 50-60Hz with 24/12 VDC, or solar powered units available
Optional
-Configuration for low pressure operation
Consult factory for others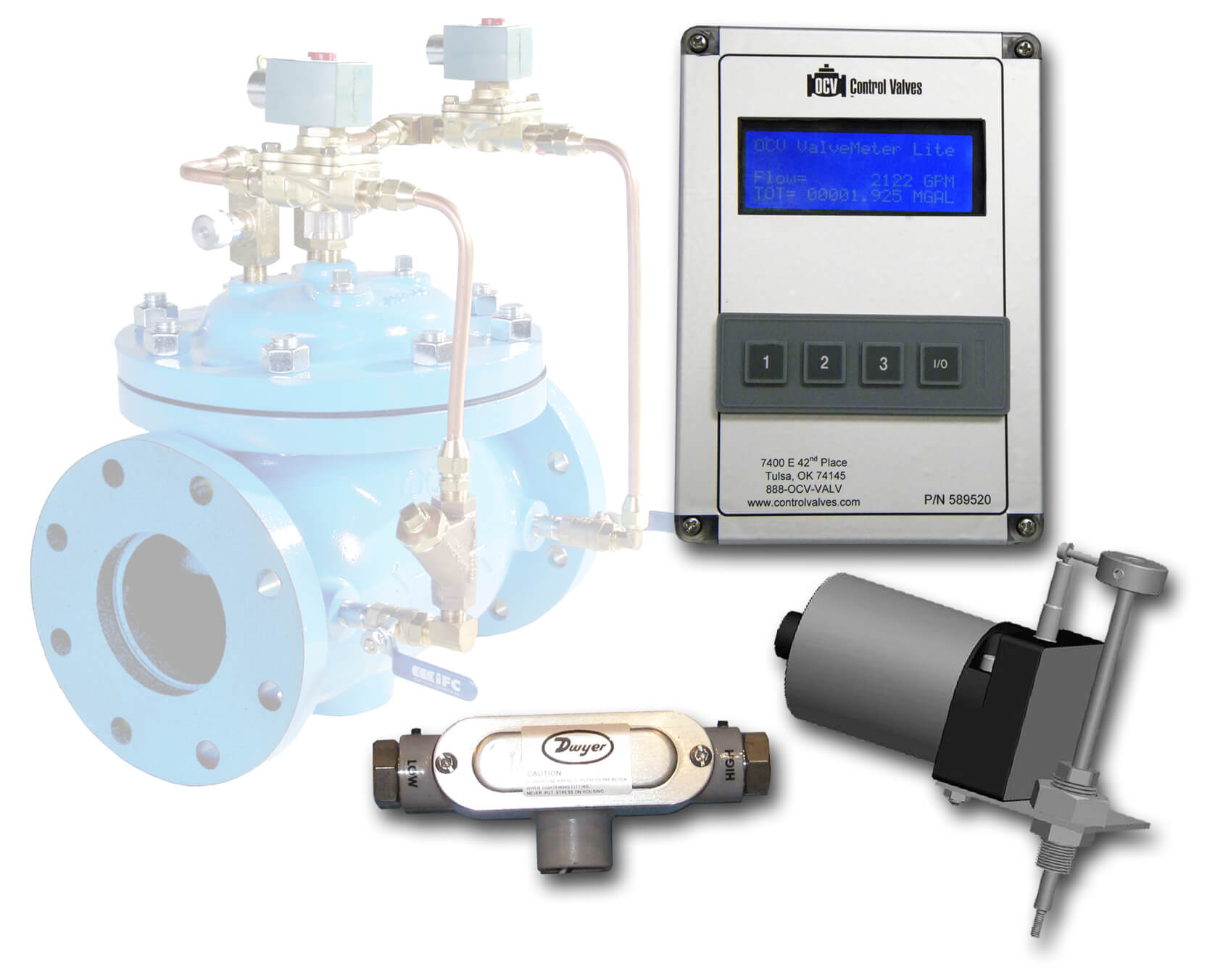 D&W has maintained a relationship with OCV as a Rep for 30+ years. Although this industry, and even products, have gone through major transformations over that time, OCV's dedication to customer service has remained steadfast. From a friendly voice when you call their office, to the expert advice you receive when troubleshooting a problem - OCV sets the standard and no one else comes close.
Andy Brown
D&W Systems
"We represent several prominent manufacturers, but OCV distinguishes themselves with their customer focused approach. It seems as if every valve they fabricate is going to their neighbor. Their quality and workmanship is second-to-none and when you call for support, you feel like family."
Tim Rice
Municipal Treatment Equipment
"I love representing OCV and working with their knowledgeable staff! Whether I need help with pricing, or addressing engineer comments, or following up on shipments - OCV always responds promptly and efficiently. Their level of customer service is top notch! I've had the pleasure of working with OCV for over 12 years now, and I've never had a warranty request from any of our customers - which says a lot about the high quality of their products."
Sandra Reser
Mellen & Associates, Inc.
"As an inside salesman for a pump company located in Southern Illinois, I am always looking for various pumping related parts and materials. Jim Gibson and the fine folks at OCV Fluid Solutions were ready to meet my needs. The service is great and the price is even better!"
Ron Krammler
C and C Pumps & Supply
"OCV was instrumental in providing on-site technical and engineering support for the start-up of the valves."
Richard Marsh
Trade Mechanical Contractors
"OCV Control Valves delivered the products on time, made them perform as proposed and helped answer our questions. There was good teamwork all around."
Mike Walker
Trade Mechanical Contractors
"Personally having 18 years of verifiable field experience, OCV is very easy to work with. They have knowledgeable tech support, their sales team is exceptional, and there have been no hiccups with lead times. Everyone I talk to at OCV knows the valves and know the equipment they are selling."
Steven Olenicki
3rd Coast Pump & Equipment
"OCV was very helpful. Not only did they always answer our questions and make sure the valves were exactly what we needed. but they were also able to provide us with two new pre-set valves in about three to four weeks."
Ty Murray
Grand Coulee Dam