Fluid Manual Reset (FMR) Feature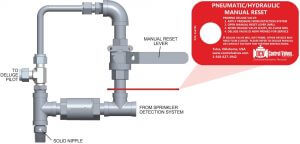 DESCRIPTION
For use with OCV hydraulic or pneumatic activation deluge valves.
Holds deluge valve "open" after initial opening sequence.
Re-closes deluge valve by operating local lever.
Typically installed on bonnet using solid pipe nipple.
Includes red name tag with operation instructions.
OPERATION
The deluge pilot trips open when air or hydraulic pressure in the sprinkler system drops.  The open pilot vents the main valve diaphragm chamber, which opens the main valve and introduces water into the sprinkler line. At this time, the deluge valve is locked in the open position and re-pressurizing the detection system will not close the OCV deluge valve. When the detection system is re-pressurized, air/hydraulic fluid cannot flow through the FMR check valve or normally closed lever to the deluge pilot. To apply this pressure to the deluge pilot, the reset lever should be opened temporarily until the deluge valve re-seats.  These instructions are meant to be generic and ultimately the specific model operation and maintenance should be referenced for full reset function.
SCHEMATIC
Circled in red, the Fluid Manual Reset Feature is shown on a Model 116MR valve.