1330 Pressure Relief Pilot
The Model 1330 is a two-way, normally closed pilot, that senses pressure under its diaphragm and balances it against an adjustable spring load. An increase in pressure above the spring set point, tends to make the pilot open.
The Model 1330 is the standard pilot for OCV Series 108 Pressure Relief/ Sustaining Valves as well as the Model 108FC Fire Pump Relief Valve. Sensing upstream pressure and opening at the set point, modulates the main valve to maintain the required pressure.
There are other applications for the Model 1330 as a normally closed, pressure to open control.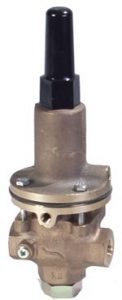 Normally Closed, increasing pressure opens
Multiple spring ranges for accurate control
Can be local or remote sensed
Simple adjustment
All parts replaceable while mounted on valve
Rubber to metal seat for positive shut-off
Bronze or stainless steel construction
MODEL 1330 MATRIX
Model 1330 Pressure Relief Pilot:

Body

Bonnet

Adaptor

Plug

Diaphragm

Seat Disc

Stem

Diaphragm Plate

Spring

Adjusting Screw

Spring Retainer

Hex Head Capscrew

Lockwasher

Hex Nut

Cap

Hex Nut

Hex Head Capscrew

O-Ring

O-Ring

O-Ring

O-Ring

Lockwasher
MATERIALS
Low-Lead Bronze
Stainless Steel
Elastomers (diaphragm, seat disc, o-rings)
Buna-N (Std.)
Viton® (Opt.) Viton is a registered trademark of DuPont Dow Elastomers
EPDM (Opt.)
MAINTENANCE
Rubber components are typically the only parts that may require periodic replacement. These are available in kits consisting of the diaphragm, the seat disc and all O-rings.
Buna-N Kit  –  Part # 930000
Viton® Kit  –  Part # 930100
EPDM Kit  –  Part # 930400
SCHEMATIC SYMBOL
The Model 1330 is shown on OCV Valve Schematics as: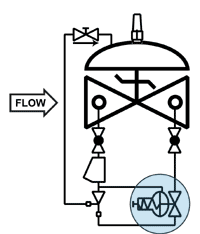 EXAMPLE: Shown here on a MODEL 108-2 Pressure Relief / Sustaining Valve.