159 Y-Strainer
The 159 Y-Strainer installs in the inlet piping of the pilot system and protects the pilot system from solid contaminants in the line fluid. It is the standard strainer for water service valves.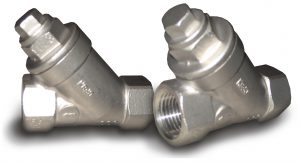 MODEL 159 MATRIX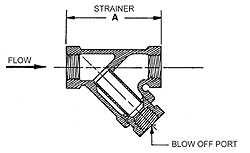 MATERIALS
Bronze, ASTM B62
Optional mesh sizes: 50,100
Stainless Steel, CF8-M (316)
Optional mesh sizes: 60, 80, 100
Screens are stainless steel
MANTENANCE
Routine cleaning and checking of the Y-Strainer will aid in keeping the control valve functioning properly. Pilot system isolation ball valves are supplied on valves equipped with the Model 159 Y-Strainer. These allow flushing of the screen through the blow off port, or removal of the screen itself for manual cleaning.
SCHEMATIC SYMBOL
The Model 159 Y-Strainer Pilot is shown on OCV Valve Schematics as: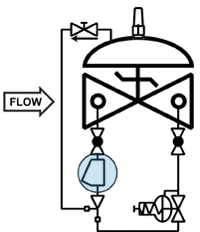 EXAMPLE: Shown here on a Model 127-3 Pressure Reducing Valve