155 Valve Position Indicator
The Model 155 Visual Indicator is a device that enables the user to determine the extent of opening of a control valve. It consists of an adaptor threaded into the center port of the valve bonnet, a rod threaded into the main valve stem, a sealing O-ring, and a protective clear plastic housing. The indicator rod moves as the valve opens and closes. It may be installed on virtually any OCV control valve, and can be done so without any disassembly of the valve itself.
WHERE USED – Standard on Series 94 Check Valves, Series 3330 Altitude Valves, and Series 22 Digital Control Valves. Optional on any other valve not employing a limit switch or position transmitter.

MODEL 155 MATRIX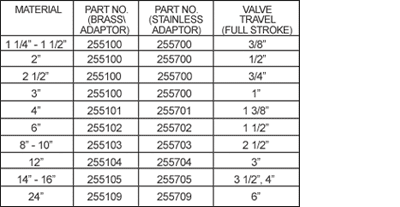 O-Ring

Housing

Bushing

Adaptor

Stem
MATERIALS
Indicator Rod: Monel
Adapter: Brass (std.), Stainless Steel (optional)
Housing: Butyrate (1″ – 6″), Acrylic (8″ and larger)
O-Ring: Viton® (std.), Buna-N, EPDM (optional)
SCHEMATIC SYMBOL
The Model 155 is shown on OCV Valve Schematic as: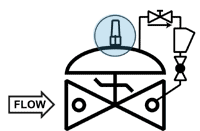 EXAMPLE: Shown here on a MODEL 94-1 Check Valve.