2-Way Solenoid
The two-way solenoid is a valve that opens and closes flow depending upon the electrical state of the coil. Installed in the valve pilot circuit, it controls the valve to open or close. The solenoid can be installed in series with a hydraulic control pilot to override the pilot and close the valve (e.g., OCV Model 127-80, 108-4), or by itself to make a simple on/off valve, e.g. OCV Model 115-2.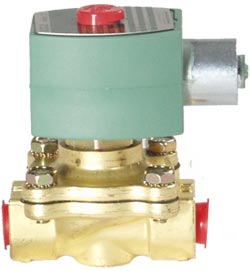 MODEL SHOWN: ASC0 8210G6
Provides On/Off (Open/Close) control of main valve.
Interfaces valve operation with timer, relays, probes, etc.
Manual Override operation available.
Available in weatherproof or explosion-proof enclosures.
Wide range of voltages in AC / DC.
Available energize to open or energize to close.
Brass or stainless steel bodies available.
AVAILABLE VOLTAGES
AC, 60Hz.    24, 120, 240, 480 Volts
AC, 50Hz.    110, 220, 440, Volts
DC    6, 12, 24, 125, 240 Volts
ENCLOSURES
General Purpose NEMA 1, 2, 3, 3S, 4, 4X
Explosion Proof NEMA 1, 2, 3, 3S, 4, 4X, 6, 6P, 7, 9
Note:
Specifications stated subject to change depending on solenoid selected per application. Consult factory.
Information Required:
Voltage, actuation (energize to open or close), enclosure, working pressure, control fluid, valve function and size.
SCHEMATIC SYMBOL
The two-way solenoid is shown on OCV Valve Schematics as:  

| | |
| --- | --- |
| | |
| EXAMPLE: Shown here on a Model 115-2 Solenoid Valve. | Model 127-80 Pressure Reducing/Solenoid Valve. |