3600 3-Way Auxiliary Pilot
The 3600 is an auxiliary pilot operated by a smaller ported control such as a float, altitude or solenoid pilot. Its purpose is to provide accelerated opening and closing action of the main valve. It is typically installed with its #3 port connected to main valve inlet, its #2 port connected to main valve outlet, and its #1 port connected to the main valve cover (bonnet). The pilot is shifted by the presence or absence of pressure on its diaphragm. It is used for straight on/off operation of the main valve.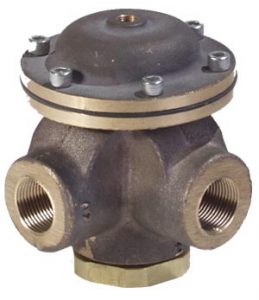 Three port, two position, hydraulically operated
3/4″ Ports
3600 – Actuated – Closes Main Valve
All parts replaceable while mounted on valve
Rubber to metal seat
Bronze or stainless steel construction
Typical uses include:
Series 3330 Altitude Valve (10″ & larger)
Series 8000 Float Valve (8″ & larger)
MODEL 3600 MATRIX
Model 3600 3-Way Auxiliary Pilot:

Body

Bonnet

Guide Plate

Adaptor

Stem

Seat Disc

Diaphragm

Diaphragm Plate

Flat Head Screw

Socket HD Capscrew

Hex Head Jam Nut

Lockwasher

O-Ring

O-Ring

Spring (optional)
OPERATIONS MATRIX


MATERIALS
Bronze
Stainless Steel
Elastomers (diaphragm, seat disc, o-rings)
Buna-N (Std.)
Viton® (Opt.) Viton is a registered trademark of DuPont Dow Elastomers
EPDM (Opt.)
MAINTENANCE
Rubber components are typically the only parts that may require periodic replacement. These are available in kits consisting of the diaphragm, the seat disc and all O-rings.  Kits are the same for models 3600 and 3600S.
Buna-N Kit  –  Part # 930040
Viton® Kit  –  Part # 930140
EPDM Kit  –  Part # 930440
SCHEMATIC SYMBOL
The Model 3600 is shown on OCV Valve Schematics as: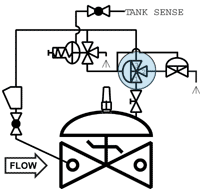 EXAMPLE: Shown here on a MODEL 3331, 10" and larger, One-way Flow Altitude
Valve.