160 Position Transmitter
The Model 160 Position Transmitter is a device that uses movement of the valve stem to provide a 4-20mA analog signal proportional to the valve position. The signal increases as the valve opens. It consists of an adaptor threaded into the center port of the valve bonnet, a rod threaded into the main valve stem, a stem seal, actuating collars, and the transmitter unit. The unit requires a 24 – 40 VDC, user-furnished, power supply. It may be installed on virtually any OCV control valve, and can be done so without any disassembly of the valve itself.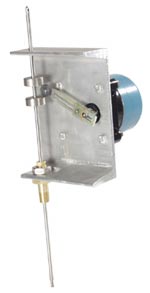 Provides 4-20mA signal, proportional to valve position.
Installed without disassembly of valve.
Enclosure is weatherproof and explosion-proof.
Available with dual SPDT or DPDT limit switches.
MODEL 160 DIMENSIONS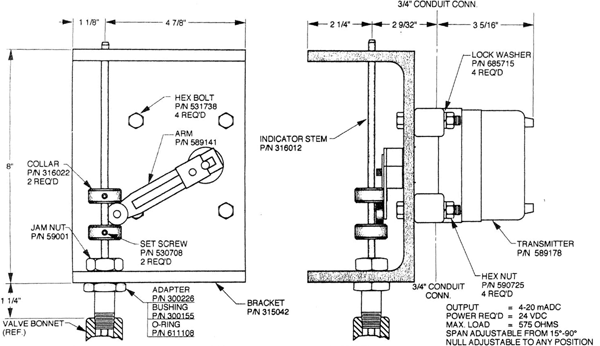 MATERIALS
Indicator Rod:  Monel
Adapter:  Stainless Steel
Collars:  Stainless Steel
Mounting Bracket:  Aluminum
NOTE: Factory recommended valve installation should allow for indicator rod to be in the vertical position.
SPECS
VOLTAGE REQUIREMENT: 24 – 40 VDC (by user)
ANALOG OUTPUT: 4-20 mA into maximum 575 ohm load with 24 VDC power supply
CONNECTION:  Two-wire current loop.
ELECTRICAL RATING – OPTIONAL SWITCHES
SPDT:  15 amps @ 125-480 VAC, 1/2 amp @ 125 VDC, 1/4 amp @ 250 VDC
DPDT:  10 amps @ 125-250 VAC, 0.3 amp @125 VDC, 0.15 amp @ 250 VDC