800C Interface Float Pilot-Side Mounted
Side-mount flange, 4″ grooved connection

Cylindrical float

Pilot float "rides" the interface between water and fuel

Four-way control to actuate discharge slug valve and/or automatic water drain valve

Uses time-proven 800 pilot block (see Model Sheet 800)

Stainless Steel pilot and float assembly (no red metals)

 Manual tester standard

Factory tested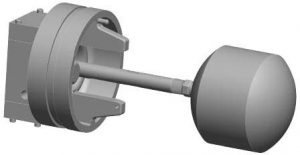 The Model 800C is a side-mounted filter separator float that allows only the discharge of clean, water-free fuel from the filter separator.   The model information is listed as follows: 
MODEL

PART NUMBER
(without manual tester)

FLANGE MATERIAL

PILOT/FLOAT ASSEMBLY

800C-5

230727

Aluminum

Stainless Steel
PILOT BLOCK PORT CONNECTIONS (All ports 1/8" NPT)
POWER: Filter separator vessel pressure
ACCELERATOR VALVE: Bonnet of accelerator pilot on discharge slug valve
WATER DRAIN: Bonnet of automatic water drain valve
EXHAUST: Atmospheric drain line
OPERATION
The float of the 800C is counter-weighted so that it will float in water, but sink in fuel.   Depending on the water level in the filter separator, the 800C actuates the other control components in the system as follows:
FLOAT POSITION

DISCHARGE (SLUG) VALVE

WATER DRAIN VALVE
(if equipped)

DOWN (No Water)

OPEN

CLOSED

MEDIAN (Rising Water)

OPEN

OPEN

UP (High Water)

CLOSED

OPEN
Actuating the manual tester (optional) will raise the float to the median or up positions, confirming the proper operation of the pilot, slug valve, and/or the water drain valve.
MAXIMUM PRESSURE: 300 psi (20.7 bar)
OPERATING TEMPERATURE: 32°-120°F (0°-49°C)
MAXIMUM FUEL SPECI FIC GRAVITY: 0.81