328 Flow Limiter
The Model 328 Flow Limiter is a device that enables the user to limit the extent of opening of the valve. It consists of a housing threaded into the center port of the valve bonnet or one of the four bonnet ports, a sealed limiting rod, and an adjusting screw. It may be installed on virtually any OCV control valve, and can be done so without any disassembly of the valve itself.
WHERE USED
The Model 328 is primarily used on on/off valves where it might be necessary to reduce the flow rate below that of a full open valve, e.g. solenoid valves supplying a limited capacity such as spray nozzles. The Model 328 is a limiting device only and should not be used in lieu of a modulating control such as Rate of Flow, Pressure Sustaining etc.
NOTE: The Model 328 is limited to 12" and smaller valves.

MODEL 328 MATRIX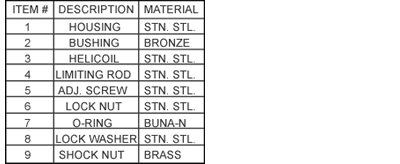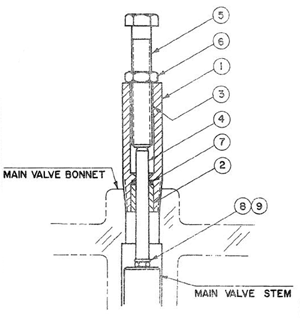 SCHEMATIC SYMBOL
The Model 328 is shown on OCV Valve Schematics as: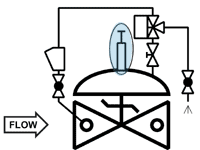 EXAMPLE: Shown here on a MODEL 115-1 Solenoid Valve.
ADJUSTING PROCEDURE
The adjusting screw may be adjusted counterclockwise to allow greater opening while the valve is under pressure. Do NOT attempt to adjust clockwise while valve is under pressure.