123 Inline Strainer
| | |
| --- | --- |
| Strainer Shown Installed | |
The 123 Inline Strainer installs in the inlet side port of the main valve, and protects the pilot system from solid contaminates in the line fluid. The screen prevents the entrance of particles into the pilot system piping while flow through the main valve washes the screen clean. Recommended use on petroleum valve applications where flushing or removal of the screen for cleaning is not practical or may be considered hazardous.
DIMENSIONS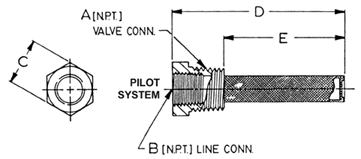 MATERIALS
Inline strainers are all-stainless steel construction.
SCREEN SIZE
Standard screen is 40 mesh. Other mesh sizes are available.
SCHEMATIC SYMBOL
The Model 123 Inline Strainer is shown on OCV Valve Schematics as: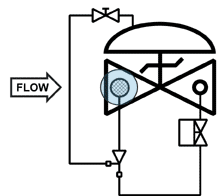 EXAMPLE: Shown here on a MODEL 115-2 Solenoid Valve.