2450 Rate Of Flow Control Pilot
The Model 2450 is a two-way, normally open pilot that senses the differential pressure across an orifice plate; high pressure under its diaphragm and low pressure above the diaphragm. The orifice plate differential is proportional to the flow rate through it. The pilot balances the differential against an adjustable spring load. An increase in differential, hence rate of flow, above the spring set point tends to make the pilot close.
The Model 2450 is the standard pilot for OCV Series 120 Rate of Flow Control Valve. Sensing the differential across the valve's integral orifice plate, the pilot modulates the main valve to regulate or limit the required rate of flow.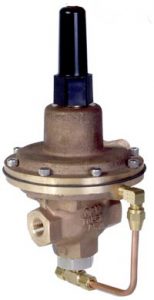 Normally Open, increasing differential closes
Simple Adjustment
Large diaphragm area for sensing small changes in differential pressure
Dual chamber, hydraulically balanced for accurate control
Bronze or stainless steel construction
All parts replaceable while mounted on valve
MODEL 2450 MATRIX
Model 2450 Rate of Flow Control Pilot:

Body

Adaptor

Bonnet

Stem

Diaphragm

Upper Diaphragm

Lower Diaphragm

Spring

Adjusting Screw

Spring Retainer

Drive Adaptor

Plug

Flat HD Screw

Hex HD Capscrew

Lock Washer

SKT HD Capscrew

Set Screw

O-Ring

O-Ring

O-Ring

O-Ring

Cap

O-Ring

O-Ring
MATERIALS
Bronze
Stainless Steel
Elastomers (diaphragm, seat disc, o-rings)
Buna-N (Std.)
Viton® (Opt.)
EPDM (Opt.)
Viton is a registered trademark of DuPont Dow Elastomers.
MAINTENANCE
Rubber components are typically the only parts that may require periodic replacement. These are available in kits consisting of the diaphragm, the seat disc and all O-rings.
Buna-N Kit  –  Part # 930005
Viton® Kit  –  Part # 930105
EPDM Kit  –  Part # 930405
SCHEMATIC SYMBOL
The Model 2450 is shown on OCV Valve Schematics as: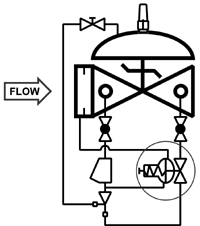 EXAMPLE: Shown here on a MODEL 120 Rate of Flow Control Valve.