814 On/Off Float Pilot 814
The 814 is a float-actuated, three-port pilot that controls the opening and closing of the main valve. The float rides freely on a vertical rod, with adjustable stop collars above and below. When the float reaches the upper stop, it moves the linkage up, rotating the pilot to close the main valve. When the float falls to the lower stop, it moves the linkage down, rotating the pilot to open the main valve. Between the two stops, the pilot, hence the main valve, remains in its last position. The 814 pilot directly operates the main valve on sizes 1 1/4″-6″. On valve sizes 8″ and larger, the 814 operates an auxiliary 3-way pilot to control the main valve.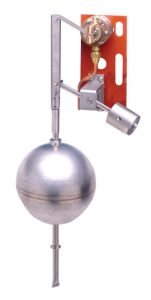 Two port, rotary disc design
Can be valve-mounted or remote-mounted
Adjustable drawdown between opening and closing points
Counterweighted linkage allows for additional float rods
MODEL 814 MATRIX
Model 814 On/Off Float Pilot:

Mounting Bracket

Exhaust

Counter Weight

Float Rod

Adjustable Stop Collars

Pilot Control

Float
OPERATION MATRIX


MATERIALS
Pilot: Bronze and Stainless Steel
Float, Rods, and Linkage: Stainless Steel
Elastomers (gasket, O-ring):
  –Buna-N (Std.)
  –Viton® (Opt.) Viton is a registered trademark of DuPont Dow
  –EPDM (Opt.)
SCHEMATIC SYMBOL
The Model 814 is shown on OCV Valve Schematics as: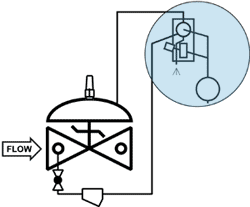 EXAMPLE: Shown here on a 8000 On/Off Float Valve.