Two-Way Programmable Solenoid
LCD display for easy selection and adjustment of programming**Programming includes days of the week, odd/even, interval

and freeze delay (1-99 days)

Length of activation 1 min to 12 hours

Provides programmable valve operation (open/close)

Available in weatherproof enclosures

Lithium battery powered (internal)

Available in nylon reinforced ABS plastic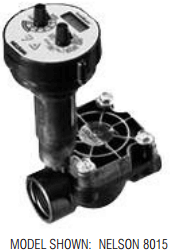 The two-way solenoid is a valve that opens and closes flow depending upon the programmed state of the timer. Installed in the valve pilot circuit, it automatically controls the main valve to open or close depending upon the programming of the internal timer. The solenoid can be installed in series with a hydraulic control pilot to override the pilot and close the valve, or by itself to make an on/off programmable valve.
AVAILABLE VOLTAGES
Lithium Battery Power Only.
Lithium battery is good for 10 years.
ENCLOSURES
Submersible up to 6 feet.
Weatherproof enclosure.
NEMA 4&6
Note: Specifications stated are subject to change. Consult factory for Rain, Freeze and Wind Sensor options.
SCHEMATIC SYMBOL