31 Limit Switch Assembly
The Model 31 Limit Switch Assembly is a device that uses movement of the valve stem to make or break electrical contacts at designated points in the valve travel. It consists of an adaptor threaded into the center port of the valve bonnet, a rod threaded into the main valve stem, a heavy-duty stem seal, an actuating collar, and the switch unit. It may be installed on virtually any OCV control valve, and can be done so without any disassembly of the valve itself.
Provides electrical indication of valve position.
Adjustable to any point of valve travel.
Heavy-duty stem seal.
Installed without disassembly of valve.
Available in weatherproof or explosion-proof enclosures.
SPDT contacts (standard) DPDT (optional)
WHERE USED – Standard on Series 125/126 Pump Control Valves. Optional on all other series control valves.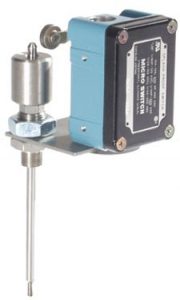 MODEL 31 ASSY MATRIX
These part numbers include Buna-N stem seal. Consult Factory for part numbers on DPDT, other stem seals, and all model 31 switches shown in the Actuation matrix.
NOTE: Factory recommended valve installation should allow for indicator rod to be in the vertical position.
ELECTRICAL RATING
SPDT:
15 amps @ 125-480 VAC
1/2 amp @ 125 VDC, 1/4 amp @ 250 VDC
DPDT:
10 amps @ 125-250 VAC
0.3 amp @ 125 VDC, 0.15 amp @ 250 VDC
ENCLOSURES
OP Switches Weatherproof NEMA 4
EX Switches Explosion Proof NEMA 7, 9
MATERIALS
| | |
| --- | --- |
| Indicator Rod: | Stainless Steel |
| Adapter: | Stainless Steel |
| Collars: | Stainless Steel |
SCHEMATIC SYMBOL
The Model 31 is shown on OCV Valve Schematics as: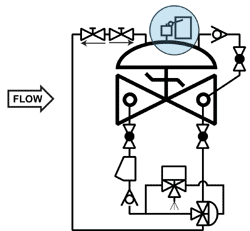 EXAMPLE: Shown here on a 125 Pump Control Valve.