3500 Motorized Pilot Actuator
Compatible with OCV pilot models 1330, 1340, 1356 and 1390.
Consult factory for others.
Allows a manually controlled valve to become a remotely controlled valve
Adaptable to the following OCV Pressure Control Pilot spring ranges:
50-300 PSI
20-200 PSI
20-80 PSI
5-30 PSI
Can be powered by a solar power system
No external feedback necessary
No programming/external software necessary
Manual Override Ability
The OCV Model 3500 Motorized Pilot Actuator (MPA) operates as a remote method of adjusting the pilot setting of a pressure reducing pilot, pressure sustaining pilot or differential control pilot (consult factory for others). The MPA is affixed to any one of these pilots by means of a stainless steel structured mounting assembly. Once installed, the MPA is connected to the user's SCADA system by a 4-20 mA current loop. If power failure were to occur, the internal memory of the MPA will retain the previous set point (unless the current loop has changed) to be used when power is restored to the system. This provides an uninterrupted pilot setting during a power failure cycle.
OPERATION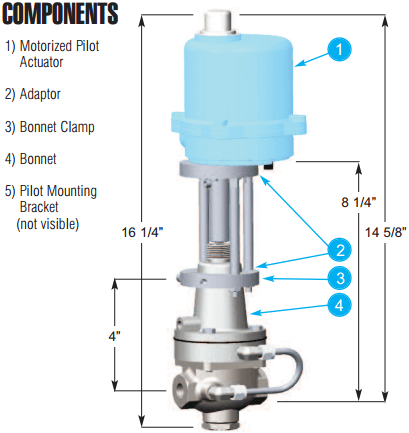 When installed on a compatible OCV pilot, the MPA will adjust the pilot set point (within it's spring range) proportionally to a 4-20 mA signal provided by the user. The higher the signal provided to the MPA, the higher the set point of the pilot. Jumpers internal to the MPA allow the user to select the appropriate spring range for retrofit applications.
SCHEMATIC SYMBOL

SPECIFICATIONS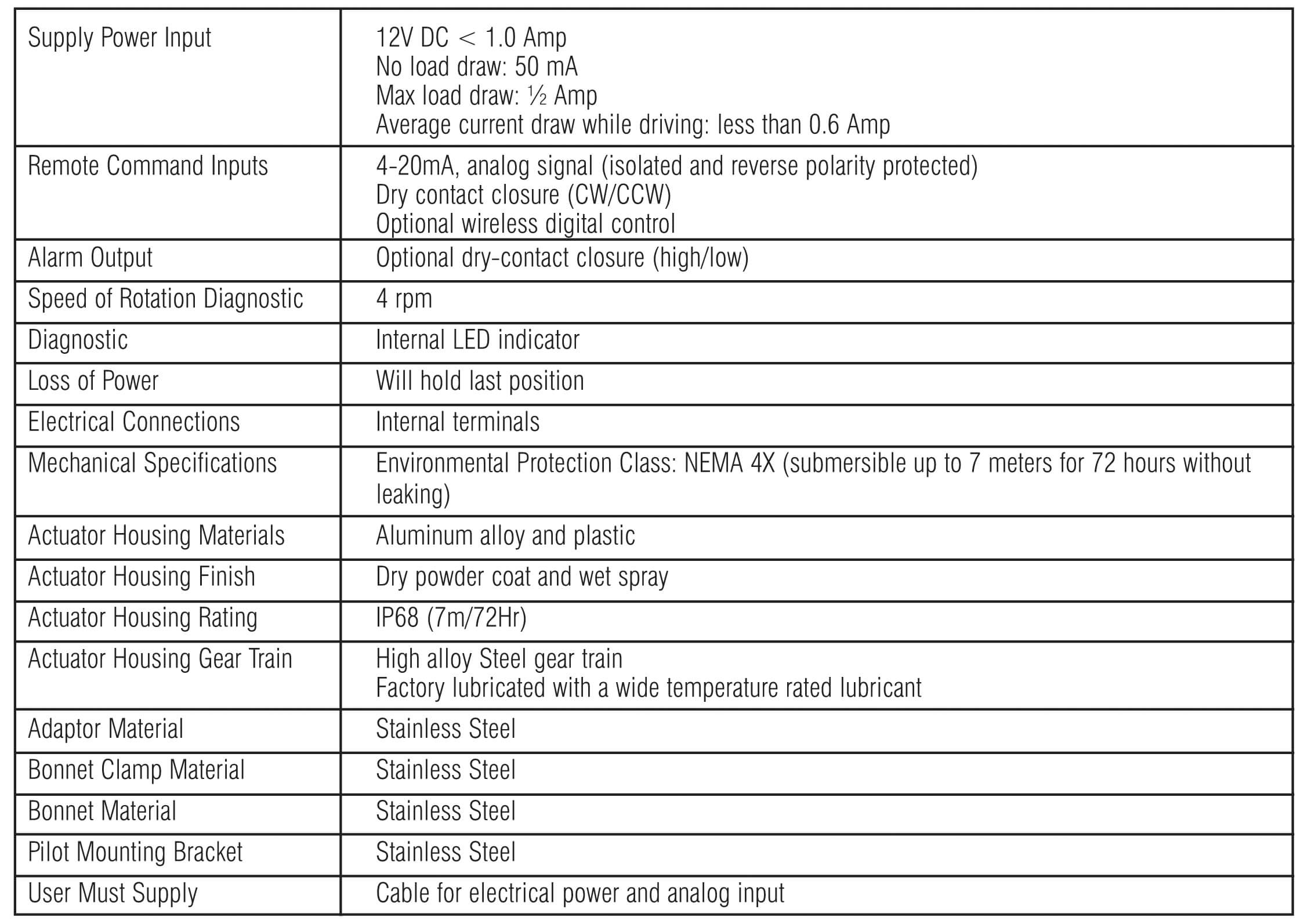 MAINTENANCE
Maintenance for the Model 3500 is minimal because it is a self-contained, sealed assembly.
Periodic operational checks should be performed, such as changing the pressure ten pounds to ensure the pilot is responding and correctly controlling the pressure. It might be necessary to lubricate the pilot bonnet bolt with lubricant once a year to prevent galling.
Main pilot rubber good components require periodic replacement. Please check the main pilot information sheet (Model 1330, 1340, 1356, 1390, etc) for replacement kit numbers.
OPTIONS
1) Wired Digital Communications RS232/485
2) RF Digital Communications 900Mhz/2.4Ghz
3) Second Current Loop for Monitoring
3A) Second Current Loop for Monitoring and Alarm Output
•Option 3 must be used with option 1 or 2
•Option 3A can only be used with option 2