The Series 100 control valves are automatic, hydraulically actuated, direct diaphragm sealing globe/weir type valves with a proven and reliable design. These valves are designed for use in fire protection applications including deluge, pre-action, pressure relief, monitors, hydrants and are suitable for water, foam and seawater systems. The valves consist of three major components: body, cover and diaphragm assembly.

UL Listed basic untrimmed valve models: 44, 68, 77

Model 44: Up to 230psi working pressure, threaded.
Model 68: Up to 375psi working pressure, flanged & grooved with drain port.
Model 77: Up to 230psi working pressure, flanged & grooved.
• UL Listed under the following categories:
  – "Special Systems Water Control Valves" Deluge (VLFT) – Model 68
  – "Fire Pump Pressure Relief Valves" (QXZQ) – Models 44 & 77
• ABS Design assessment & Fire tested to EN ISO 6182-5:2006 – Model 68 2"-6"
• Lloyd's type approval
• CCCf – Model 68 DE\EL(CN)
• GOST-R
• Manufacture & conformity assessment of pressure equipment & assemblies Directive (97/23/EC / EN1074)

Consult the UL listing guide or contact OCV Fluid Solutions for a complete list of approved applications and valve sizes.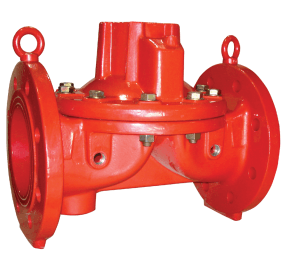 STANDARD
• Listed & approved for use in fire protection systems by various global standards
• Quick opening: Non-slam closing operation
• Drip-tight shut off to ANSI FCI 70-2 VI seat leakage class
• Simple and reliable design
• Low lifelong maintenance costs due to straightforward design
• Easy installation and inline maintenance
• High-grade construction materials
• Exceptionally low pressure losses
OPTIONAL
• Remote or manual reset
• Manual, electric, hydraulic, pneumatic and combined control trims
• Explosion proof, SIL redundant solenoids & trim accessories
• Seawater and foam concentrate service
PRESSURE RATING
Recommended nominal system pressure to flange class for typical materials as:
Ductile Iron ASTM A536

Stainless Steel ASTM CF8M

Cast Steel ASTM A216 & ASTM A352 LCB

NAB ASTM B148 C-95800
• 250psi nominal system pressure for flanges ANSI B16.42 & ANSI B16.50 Class #150 accordingly.
• 375psi maximal system pressure for flanges ANSI B16.42 & ANSI B16.50 Class #300 accordingly.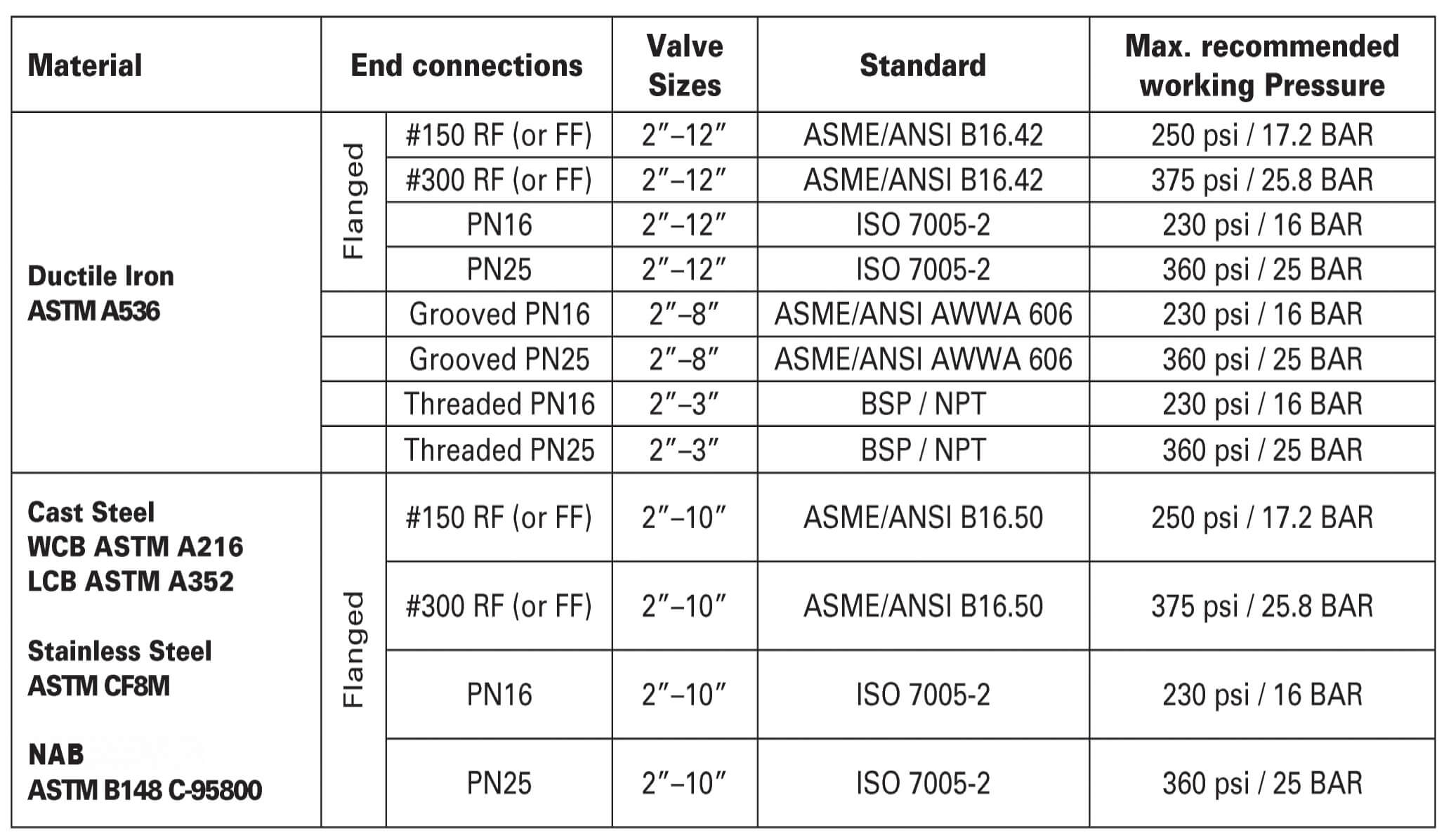 SPECIFICATIONS
Temperature:
Water up to 85°C / 185°F max
Sizes:
Straight Flow: .75"- 24" / 20-600 mm

UL Listed: 2"-10" / 50-250 mm

Lloyd's Type Approved: 1"- 24" / 25-600 mm
End Connections:
Flanged (Models 68 & 77) 1"- 24": ISO PN16 & ISO PN25; ASME/ANSI B16.42 & B16.50 Class #150 & Class #300
Additional options available upon request.

Grooved (Models 68 & 77) 2"- 8": ASME/ANSI AWWA 606

Threaded (Model 44) .75"- 3": BSP / NPT
Body & Cover Material:
Ductile Iron ASTM A536

Cast Steel ASTM A216 & A352 LCB

Stainless Steel ASTM CF8M

NAB ASTM B148 C-95800
Coating Material:
High Built, Fusion Bonded Epoxy
Optional Coating Material:
UV Protection

Polyester

Other

coatings conforming to ISO-12944 C4, C5 & C5M
Internal Trim Material:

Elastomers:
Control Trim & Accessories:

Brass

Stainless Steel

Bronze

Monel

NAB

Super Duplex
Optional Components:
Pressure Reducing Feature

Position Indicator

Limit/Proximity Switch Assembly

Pressure Switch

Alarm Test Trim

Drain Valve

Explosion Proof

Open/Close Speed Control

Block & Bleed Valves for Pressure Sensing Components

PPCS (Pneumatic Pressure Control System for Pneumatically Actuated Models)