The OCV Series 65 control valves are automatic, hydraulically actuated, diaphragm operated, rigid seal globe and angle pattern valves. These valves are designed for use in fire protection applications, including deluge, pressure control, water, foam and seawater fire protection systems. The valves consist of three major components: the body, the bonnet and the internal diaphragm assembly.
Compliance & Certification:
UL Listed (3"-10" with Buna-N Elastomers) under categories: QXZQ, VLFT & VLMT

ABS Type Approval

Factory Mutual Approved under categories 1361 & 1363

Fire Tested to EN ISO 19921

Consult the UL Listing Guide, FM Approval Guide, or contact Aquestia USA for a complete list of approved applications and valve sizes.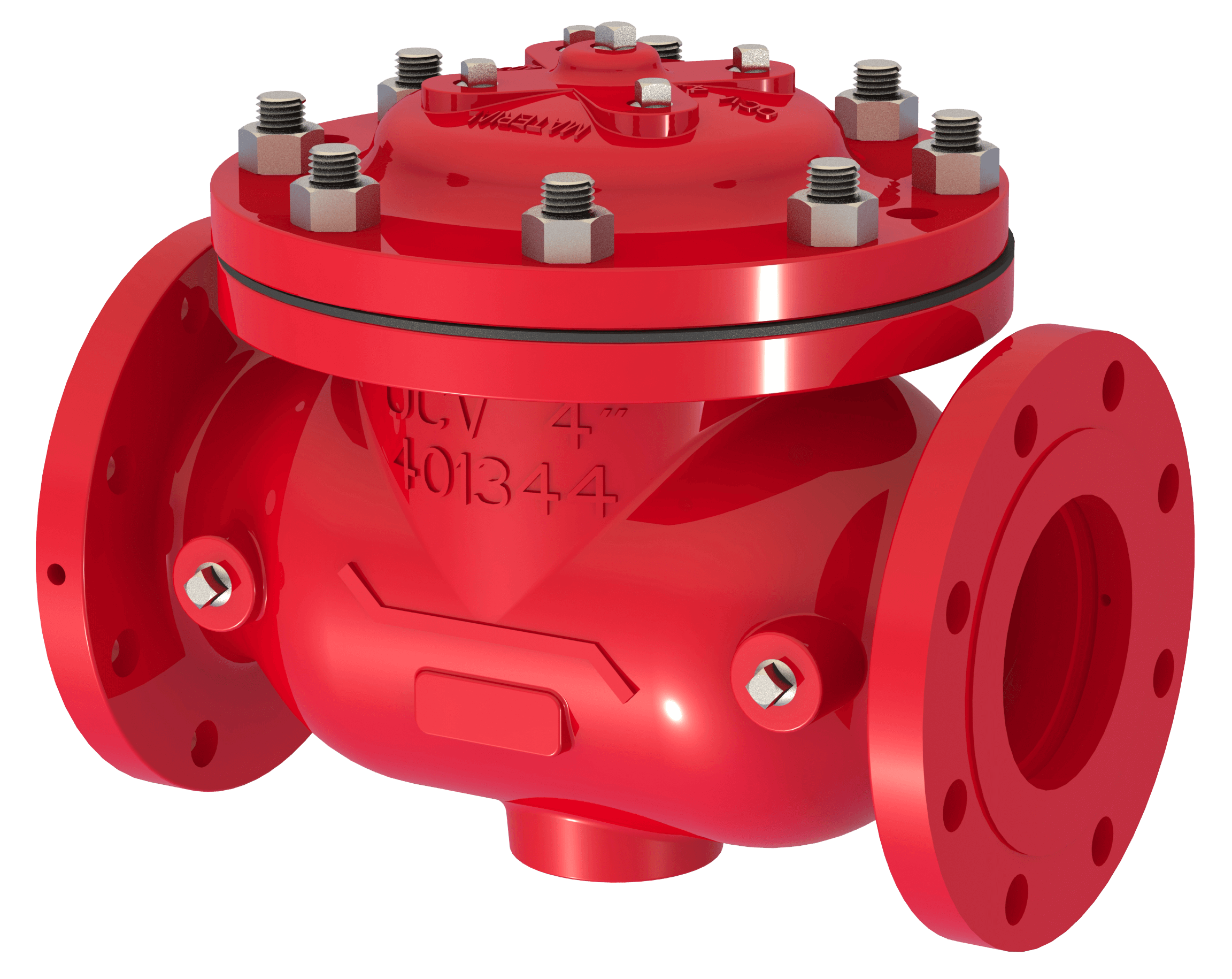 STANDARD
• Listed & approved for use in fire protection systems by various global standards
• Quick opening; Non-slam closing operation
• Drip-tight shut off to ANSI FCI 70-2 VI seat leakage class
• Simple and reliable construction
• Easy installation & maintenance
• High-grade construction materials
• Reliable pressure control
• Low pressure losses at high flow rates
OPTIONAL
• Local or remote reset
• Electric, pneumatic & electro-pneumatic control trims
• Explosion proof solenoids & trim accessories
• Seawater & foam concentrate services

Valve Closed
When line pressure from the valve inlet is applied to the cover chamber, pressurizing the
diaphragm, the valve is closed drip-tight.

Valve Open
When cover chamber pressure is vented, the valve shifts to the fully open position.

Valve Modulating
The valve is between fully open and closed positions. The valve's control pilot modulates the
pressure in the cover chamber, positioning the valve to control the desired pressure or flow. 

where:
Q = Flow Rate in USGPM (U.S.) or
Q = Flow Rate in cubic meters/sec (Metric)
Cv = Flow Rate in USGPM @ 1 psi pressure drop (U.S.) or
Cv = Flow Rate in cubic meters/sec @ 1 bar pressure drop (Metric) DP = Pressure Drop in psi (U.S.) or
DP = Pressure Drop in bar (Metric)
sg = Specific Gravity of line fluid
The Model 65FC consists of the following components, arranged as shown on the schematic diagram:
[1] Model 65FC Basic Control Valve: a UL Listed, hydraulically operated, diaphragm actuated globe valve which closes with an elastomer-on-metal seal.
[2] Model 155Visual Indicator Assembly: (optional) provides indication of valve position at a glance.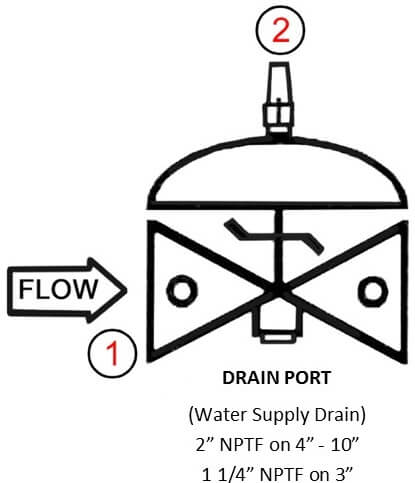 SPECIFICATIONS
Temperature:
Water up to 110°C / 230°F max
Sizes:
Globe: 1.25" – 24" / 32-600 mm
Angle: 1.25" – 16" / 32-400 mm
End Connections:
Flanged: ISO PN16 & PN25; ASME/ANSI B16.42 & B16.5 Class #150 & Class #300
Threaded: BSP / NPT
Grooved: ASME/ANSI AWWA 606
Pressure Rating (Ductile Iron at 100°F/37.8°C):
250 psi for Class #150 & #300
Body & Cover Material:
Ductile Iron ASTM A536
Cast Steel ASTM A216
Stainless Steel ASTM CF8M
NAB ASTM B148 C-958000
Coating Material:
High Built, Fusion Bonded Epoxy
Optional Coating Material:
Main Valve Trim Material:
Elastomers:
EPDM
BUNA-N
Viton
Control Trim & Accessories:
Bronze/Brass
Brass
Stainless Steel
Monel
NAB
Optional Components:
Pressure Reducing Feature
Position Indicator
Pressure Switch
Alarm Test Trim
Drain Valve
Explosion Proof
Open/Close Speed Control
Block & Bleed Valves for Pressure Sensing Control PPCS (Pneumatic Pressure Control System for Pneumatically Actuated Models)